OEM IPG Laser Nozzle Holder 28.7mm M11 Fiber Laser Machine Parts Ceramic Ring
OEM IPG Nozzle Holder Laser Ceramic Ring For Fiber Laser Cutting Head
1. The Fiber Laser Ceramic Ring has stable signal and high sensitivity
2. Made of high quality material, durable and long service life
3. Adopt welding method, firm and not easy to fall off
4. Suitable for major brand cutting heads
5.The Ceramic Ring is tightly combined with the alloy, the surface finish is higher, the air is more fluid.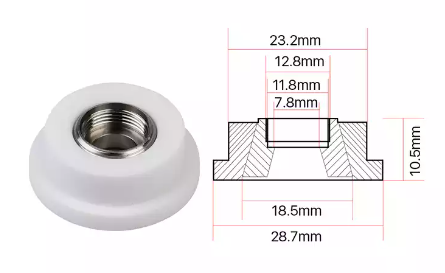 Alumina ceramic exhibit good mechanical properties such as hardness, compressive and tensile strength, and elastic modulus. They perform well at elevated temperatures.
OEM IPG Laser Nozzle Holder 28.7mm M11 Fiber Laser Machine Parts Ceramic Ring
The Fiber Laser Ceramic Ring is an important part of the cutting head on the fiber laser cutting machine, which is used to transmit the electrical signals collected by the nozzles of the laser head and stabilize the normal operation of the fiber laser cutting machine.

The failures such as the sudden shutdown of the equipment and the laser head hitting the face that we often encounter are actually caused by the instability of the laser ceramic ring. Therefore, it is very important to choose a good quality ceramic ring of fiber laser cutting machine.
The ceramic ring for Raytools, WSX, Precitec and other brands laser head insulates the heat from the nozzle and protects the laser head itself. The ceramic ring also contains various electrical contacts to perform the measurements for the height adjustment of your fiber laser.