Portable Laser Rust Removal Machine Luggage Type Handheld Laser Cleaning Machine
If you are looking for an affordable portable laser cleaning machine, laser rust removal machine, which can laser cleaning for rust, painting, etc, the trunk type cleaning equipment like an Luggage box, with 100W fiber laser source, you can move it to any place that you want. this laser cleaning system with control software, easy operation, handheld laser cleaner head with very light weight for sale from China.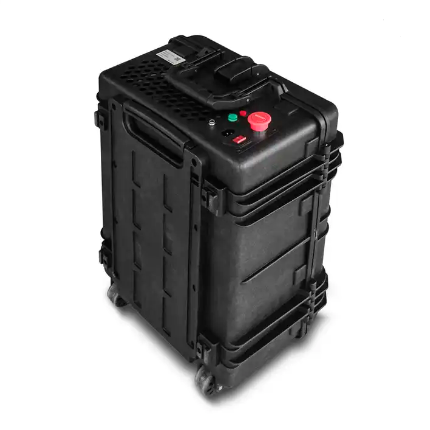 This is the mosty cheapest cleaning machine during laser cleaning machine, this laser cleaning machine price is the mostly cost price.
so if the budget is not enough, you can thinking purchase Bogong 100W laser cleaning equipement. you can use this machine do laser paint removal, laser rust removal, laser metal cleaning, laser paint removal.
Laser derusting machine detail as below: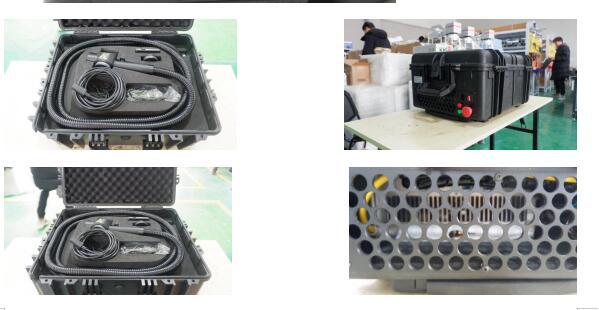 Parameters of laser cleaning machine
| | | |
| --- | --- | --- |
| Model | | 100W laser cleaning machine |
| M² | | <2 |
| Output armor cable length | m | 5 |
| Average output power | W | >100 |
| Maximum pulse energy | mJ | 1.5 |
| Frequency adjustable range | kHz | 1-4000 |
| Pulse Width | ns | 2-500 |
| Unstable output power | % | <5 |
| cooling method | | Air-cooled |
| Supply voltage | V | 48V |
| Maximum power consumption | W | <400 |
| Environment supply current | A | >8 |
| current Center wavelength | nm | 1064 |
| Spectral width@3dB | nm | <15 |
| Polarization direction | | at will |
| Whether anti-high reflection | | Yes |
| Beam diameter | mm | 4.0±0.5,7.5±0.5(customization) |
| Power adjustment range | % | 0~100 |
| range of working temperature | ℃ | 0~40 |
| Storage temperature range | ℃ | -10~60 |
| Laser source size | mm | 350*280*112 |
| Laser source weight | Kg | 13.2 |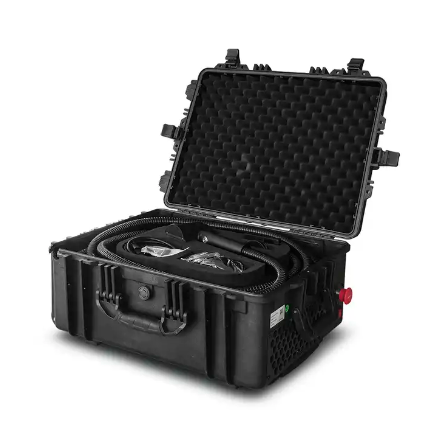 Product characteristics for Laser cleaning machine
1. The dedusting machine can work offline, and it can be cleaned after power on
2. Laser collimation output, output spot size can be customized (default 4mm spot)
3. The laser cleaning head is extremely lightweight, weighs only 620g (without armor cable), and can be operated by hand for a long time
4. Patented red light assisted focusing technology, can adjust the focus position according to different field lenses
5. Wireless control, can realize parameter setting and light control remotely, and update parameters at any time
6. Portable trolley case design, the weight of the whole machine is 28kg, and it can be transported by high-speed rail or air consignment
7. Super strong integrated injection molding chassis, cushioning design, stable structure, wear resistance, shock resistance and drop resistance