Trolley Case Type Laser Cleaning Machine For Metal Rust Removal Oil Grease Clean
Laser cleaner uses high-energy pulse laser beam to work on the work piece surface. build-in laser, laser head and accessories. The high energy will help to remove the surface rust layer and coating oil. Adopting optical fiber laser, full enclosed stable light path, lifelong free maintenance, air cooling, the hand held laser cleaner machine is compact and environmentally friendly. Besides, the hand held laser cleaner machine can be used not only for mental pollutants, but also non-metallic work piece.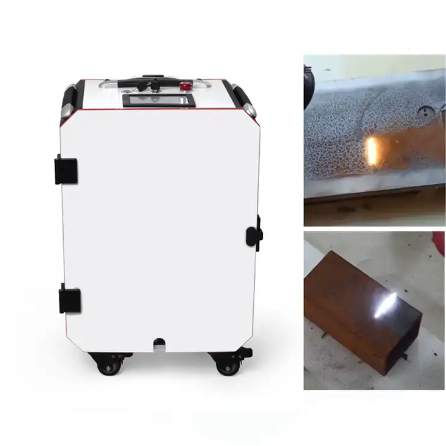 1.Features of laser cleaner
1) All-in-one trolley case control system, build in laser source, laser cleaning head, and laser system.
2) One touch operation system.
3) Pulse fiber laser source, no damage to the base of the material due to the no-touch surface cleaning performance
4) Precise cleaning technic for the specific area in a selected area
5) No need of chemistry or other added supplies
6) Small cleaning time consumption and comes with a high quality finishing result
7) Stable and impacted integrated design which results to no extra maintenance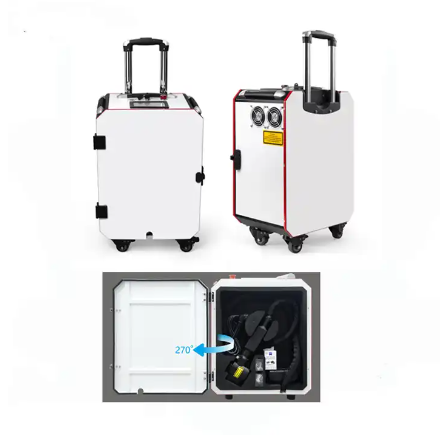 2. Operation Conditions of laser cleaner
| | |
| --- | --- |
| Laser Type | Pulse Fiber |
| Pulse Formation | Q-Switched (Quality factor) |
| Average Power, Max | 100W 200W |
| Average Power (W) | 0-100 Output Range(adjustable) |
| Pulse-Frequency,Range | 10-100 (KHz) |
| Max. pulse energy | 1mj |
| Fiber Length (m) | 3m / 5m(customized) |
| Cooling Type | Air cooling |
| Input Power | 220V, 50/60H |
| Dimensions(mm3) | 538mm X 411mm X 685mm |
| Working environment temperature | 0℃~40℃ |
| Working environment humidity | ≤80% |
| Scanning Head Weight | <1KG |
3.The scope of application of laser cleaner
A Metal surface derusting
B Surface paint removal paint treatment
C Surface oil, stains, dirt cleaning
D Surface coating, coating removal
E Welding surface / spray surface pretreatment
F Stone surface dust and attachment removal
G Rubber mold residue cleaning