Chrome Plated Dia 32mm Laser Cutting Nozzle Laser Cutting Machine Parts
Laser Cutting Machine Parts Consumables Hans Chrome-Plating Laser Cutting Nozzle
- High Efficiency: The laser nozzle has excellent electrical and thermal conductivity, high hardness and corrosion resistance.
- High Accuracy: High processing accuracy, no burrs and fast cutting speed.
- Faster Cutting: Fast cutting speed, high surface finish and long service life.
- Good Durability: High quality raw material can make sure the durability and stability of the product.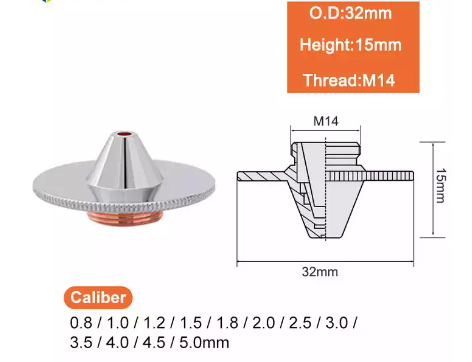 | | |
| --- | --- |
| Item | Description |
| Material | T2 Red copper |
| Size | Dia. 32mm / 28mm |
| Height | 15mm / 11mm |
| Thread | M11 / M14 |
| Layer | Single / Double |
| Caliber | 0.8mm, 1.0mm, 1.2mm, 1.5mm, 2.0mm, 2.5mm, 3.0mm, 3.5mm, 4.5mm, 5.0mm |
Selecting the right nozzle is crucial for part quality. Ensure you have the best cutting quality with the Original nozzles. These are manufactured according to particularly stringent quality specifications. The precise surface of the nozzle created minimizes the amount of slag spatter, ensuring the distance regulation functions perfectly.
In the laser cutting process, the main factors that affect the cutting quality performance include laser beam quality, laser power, cutting speed, workpiece thickness, material type, etc. In addition, the nozzle design of the laser cutting head is also an important factor.

The nozzle is usually installed at the front end of the laser cutting head, which helps to control the auxiliary gas and protect the focus lens.
On the one hand, when the nozzle center is different from the laser center, it will cause the following effects:

1.When the cutting gas is sprayed, the gas volume is not uniform, so the cut part is more likely to have one side that is melted, and the other side does not have a side that is melted. In particular, when the thickness of the cut metal plate exceeds 3 mm, the effect is more serious, and sometimes it cannot be cut.

2.When cutting workpieces with sharp or small angles, local excessive melting may occur, which affects the cutting quality. It may also make it impossible to cut thick plates.

3.Especially when perforating a thick plate, it will cause instability in the perforation process, time is not easy to control, and the penetration of the thick plate may lead to excessive melting.