3015M Fiber Laser Sheet and Tube Cutting Machine Duel Purpose Lazer Cutter
High Accuracy 3015M Fiber Laser Sheet And Tube Cutting Machinery For Metal
1. One machine can be used for both cutting and cutting pipes, saving cost and high cost performance.
2. Stable optical path system and control system
3. Introducing the original fiber laser, the performance is stable, and the service life is over 100,000 hours.
4. The cutting quality and efficiency are high, the cutting speed is up to 40m/min, and the cutting edge is beautiful and smooth.
5. Introduced high-performance reducer, rack and pinion, guide rail and ball screw to ensure stable operation of X and Y axes.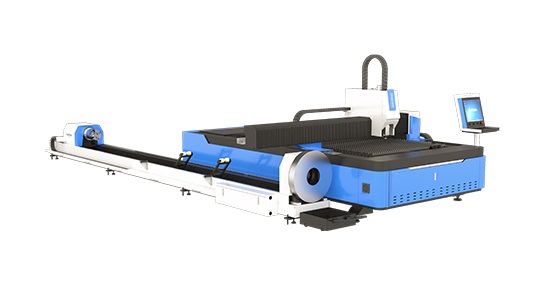 3015M is specially used for cutting carbon steel plates (pipes), stainless steel (pipes), galvanized steel plates and pipes ,
electrolytic zinc-coated steel (pipes), aluminum sheet (pipes), brass (pipes) and other thin metal materials.
Automatic metal plates and pipes fiber laser cutter 3015M is widely used in kitchen appliance, electrical control box , mechanical equipment, electrical equipment,lighting hardware fittings, elevator manufacturing,auto parts, hardware and metal processing.